http://flonightingales.blogspot.com/
It's not massively interesting or anything, and comprises mostly jewellery/Etsy stuff with some minor-league ranting.
Won't be leaving LJ because of the communities, but I've binned facebook and twitter (time-sucking portals of evil), so that's where you'll find me!
I don't seem to ever update my LJ any more, but if anybody is interested, I'm blogging over on Blogger:










That is all.
I'm forty a week tomorrow.
But here's Monkey in a tree: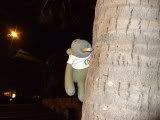 And (*waves*) hiya to any loose browsers, say hello and I'll happily add you. If I like you. And possibly even more so if I don't.
And if you don't want to be my friend, go to
my Folksy shop
and buy things instead :)
Friends only. Haha, all single-figures of them.